Luke 15:1-10 – Listen
1 Now the tax collectors and sinners were all drawing near to hear him. 2 And the Pharisees and the scribes grumbled, saying, "This man receives sinners and eats with them."
3 So he told them this parable: 4 "What man of you, having a hundred sheep, if he has lost one of them, does not leave the ninety-nine in the open country, and go after the one that is lost, until he finds it? 5 And when he has found it, he lays it on his shoulders, rejoicing. 6 And when he comes home, he calls together his friends and his neighbors, saying to them, 'Rejoice with me, for I have found my sheep that was lost.' 7 Just so, I tell you, there will be more joy in heaven over one sinner who repents than over ninety-nine righteous persons who need no repentance.
8 "Or what woman, having ten silver coins, if she loses one coin, does not light a lamp and sweep the house and seek diligently until she finds it? 9 And when she has found it, she calls together her friends and neighbors, saying, 'Rejoice with me, for I have found the coin that I had lost.' 10 Just so, I tell you, there is joy before the angels of God over one sinner who repents."
 Redeemed Mind – Learn
As Jesus continues his ministry to the poor and marginalized in society, he once again faces off against the religious elite who criticize him for associating with "sinners."  In response to this, Jesus, as per his usual MO, tells them a series of stories in order to teach a lesson.  These stories all speak about how we see everyday people finding value in seeking out something they have lost.  And upon finding it, they rejoice.
Jesus uses the "lesser to greater" argument: if imperfect people experience joy in finding things they've lost, how much more does God rejoice over those who have been "lost" and have been "found."  Twice, Jesus emphasizes that "there will be more rejoicing in Heaven over one lost person being found," versus 99 people who think they are righteous not doing anything different.
Redeemed Heart – Worship
The irony of this story is that Jesus is telling this parable to the Pharisees, a religious group who deeply believed they were without sin, criticizing those "sinners" who were less holy than them.  This stands in start contrast to what the Bible tells us: that we are all "lost" in sin.  The ESV Study Bible says: In light of the emphasis in Luke–Acts on the universal need of repentance (seeLuke 3:3) and the evil of humanity (11:13; cf. Rom. 3:10–20), this is best understood as ironic for "those who think they are righteous and have no need to repent."
Living in this world, I have seem hundreds of people who really don't care about how they live their lives.  They are content to judge other people without giving a second thought to self-examination or thinking about how messed up they really are.  I have seen what the Bible describes as a "veil" that disables people from seeing and acknowledging humanity's spiritual bankruptcy.  In many ways, they are like the hard-headed Pharisees who seem to be incapable of seeing their own flaws and failings.
These parables remind me of my place in the story.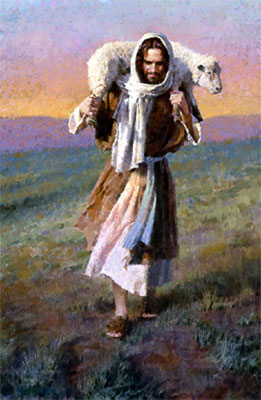 I am that coin.
I am that sheep.
And Jesus is the Good Shepherd that takes me upon his mighty shoulders and brings me safely home.
By God's grace alone do I find this to be true for my life.  And I pray it continually brings me to my knees when I remember that this parable is not about doing better in life, but rather that Jesus did the best thing for my sake.
He gave up everything for this this unworthy lost soul.
Redeemed Life – Grow
As with most things in the Bible, I don't believe this story is telling us to try harder.  Do better.  Get it right.
I believe it is challenging us to make a change in our perspective.
The Bible is not an instructional guide for how we live our lives.  We (humanity) are not even the main character!  God is!
The Bible is the story of a God who created a good and perfect world.  A world that was corrupted by sin and deceit.  And a world that became estranged to the One who created it.  The Bible is a story about God coming into our darkness to claim us as His own.  We are merely the blessed recipients of God's overarching story.  We are the beloved "lost" ones that He takes joy to receive back into his possession.  We are the object of his savage love and unrelenting grace.  We are his.
When was the last time you thought about yourself in that light?